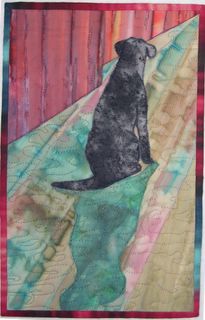 "Still Waiting," by Sharon Malec
A few months ago, I bought this gorgeous small quilt through the "
Keiko and Friends: Art Quilts
" exhibit curated by Laura Wasilowski. I simply couldn't resist it.
Sharon Malec
is a very talented quilt artist who is known as "the Dog Lady" because of her great dog quilts and designs. And this one really called out to me.
My sister, Laura, has had a wonderful, quiet black lab named Libby for about 13 years. She rescued her after Libby was found, staked to a tree behind an empty house. It was apparent from her behavior that she was a young dog, and sweet, but that she'd been badly abused. So, for the past 13 years, Libby has been my sister's shadow. For quite a while, Laura had a job where she could take Libby to work with her. Libby rides "shotgun" next to Laura in her truck, and where ever Laura is, Libby is curled up quietly nearby. When Laura had to travel, we or my parents would keep Libby for her...and this quilt represented what we usually saw, then--Libby's back, as she sat gazing at the door or a window, waiting for Laura.
When I bought this lovely quilt, I wasn't sure whether I was going to keep it or give it to Laura. I really wanted to keep it -- but, after all, it's an amazing likeness of Libby (especially since Sharon Malec has never seen her). I've had it tucked away, and figured I'd decide at some point.
Well, this past week, Laura had to have Libby put to sleep. Libby's been pretty frail for a while now, with back problems and doggie delirium setting in. It was looking like she had a brain tumor, and things were going to plummet fast. So, we all had our sad goodbyes. Laura's doing okay, but she misses her so much.
And of course, it became very clear that Laura needed this lovely art quilt. I gave it to Laura tonight, and we both had a good cry and then went out and threw balls for Gemma.
I've sent my deep thanks to Sharon, for creating something that has become so meaningful to both me and my sister.