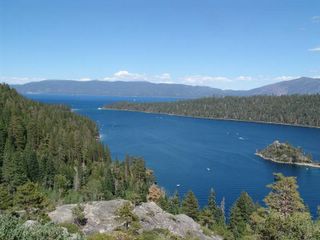 I have to apologize, belatedly, for my silence over the past week. I've been on vacation at Lake Tahoe, and as I left immediately after coming home from my workshop weekend with Karen Stone, I didn't have time to post a message here!
In any event, we had a grand time. We stayed with Roger's sister at the vacation home she has there, and met up with her and Roger's brother and his family for a short sibling reunion. This was our third annual reunion trip, and we have developed the tradition of progressively decorating the photographs of any other family members who opt out of the week! This year's subjects were Roger's other sister, Doreen, and her son Dash...so their pictures were decorated with tatoos, facial hair, jewelry, and assorted other additions...We posed their photographs on floating river rafts, on lounge chairs on the beach, eating dinner with us, and in various silly and/or compromising positions. That ought to teach them to show up next year!
I'll mention our only bad experience here as a precaution to those of you with little children...One night, after we'd spent the day at the lake, Caroline complained of a severe headache with what sounded like migraine symptoms: extreme sensitivity to light, bad headache pain, nausea, vomiting...But she has had migraines before (they're not uncommon in kids, I've learned) and she didn't respond as she usually does to her medicine and her continued extreme pain was really concerning to us. So, I called our doctor and learned that cornea sunburn is a common occurrence in kids who've been outdoors and around water all day! He advised to give her ibuprofin and benadryl, to keep cold compresses on her eyes for the night, and to keep her in sunglasses -- even indoors -- all the next day. She'd be fine, he said, after that. And, in fact, she was! The next morning she reported a slight feeling of scratchiness in her eyes but she was otherwise perky as all get out... and 100% fine the day after that. But who knew? For all the "Parents" magazines I've read and weird-injury stories I've heard from parents, I never knew about the possibility of sunburning corneas. So, parents and friends of little ones, beware--keep your kids in sunglasses or goggles on the water!
Mostly, though, we sat on the edge of the lake and chatted and read, and then went in to swim or float or search for crawdads under the dock...you know, that sort of strenuous activity that requires a margarita before dinner and an early bed-time. The house has a wonderful back deck and a comfy futon out there...so as much as I could, I hung out there to read or nap or stare up at the trees. Heaven.
Then, for excitement's sake, we ventured the hour's drive east to Reno, Nevada for two nights. We stayed at a very nice and reasonably priced casino hotel...and had fun watching hotel room movies (Robots is worth seeing for the amazing creativity in the robot shapes!), playing slot machines, swimming with Caroline at the pool, and just watching the fascinating slice of humanity that walks through a casino. My personal thrill was winning $600 while playing a PENNY slot machine! I am a very timid gambler -- hence the penny machine -- and I had to look really hard at the cash-out slip to convince myself that I'd hit a jackpot that paid 60,000 pennies!!
We got home this evening and did the usual unpacking and piling-of-laundry-to-be-done in the laundry room. Life as usual will resume tomorrow, after we reclaim our sorely-missed puppy from the Puppy Camp where she has been boarding in our absence.
I'm looking forward to getting back to blogging life and finding out what all the AQW Ringers have been up to!