We are so relaxed that we are bordering on catatonic. I think this is the perfect vacation.
Yesterday was Roger's and my 13th wedding anniversary, so we celebrated with a day Ka'anapali Beach. The other day when we were there, we had the presence of mind to reserve a beach cabana on the beach at Black Rock. That meant that we spent the day on comfy, cushioned lounge chairs, protected by a movable canopy. It was lovely.
You can actually watch the Ka'anapali beach from the Sheraton at
this live webcam
! Here's the view we saw when we looked south from where we were sitting:
It was especially nice to be able to walk into the water and find good snorkeling right there. We were also glad we'd gone to the Maui Ocean Center early in the week, as it made us especially excited to see fish that we'd seen at the aquarium, but in their natural habitat. Plus, we were able to identify some, so that was fun as well. Caroline was especially good at spotting eels hiding among the rocks.
For our anniversary, Roger gave me this beautiful necklace. Isn't it pretty? I don't know what the stones are, but I love the colors. The pendant part is about an inch and a half long.
After we cleaned all that sand and salt off, we went to the Seahouse Restaurant right here in Napili for dinner. It sits right on the beach so we had a wonderful view throughout dinner. We ate outside on the deck (see those umbrellas to the left there?). I deviated from my ongoing taste test of Blue Hawaii's to have a Napili punch cocktail with Roger... they were orange and passionfruit juices with dark rum added. Yum. And, you know-- passion fruit? A good anniversary choice, don't you think?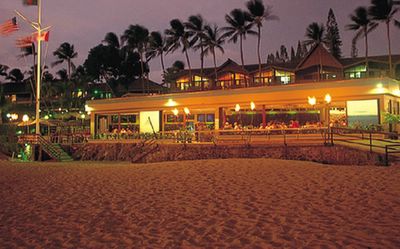 Dinner was delicious. I went for a very Hawaiian option and had macadamia nut-encrusted mahi mahi with a pineapple salsa, which was heavenly. Roger had sauteed sea scallops over linguine, and Caroline had her favorite pasta with butter and cheese. We were all contented.
Speaking of delicious dinners, the night before we explored Whaler's Village (an upscale outdoor mall in Kaanapali) and ate at the Hula Grill. For those of you who have been to Art Quilt Tahoe and dined at the Sunnyside Restaurant on Lake Tahoe, Hula Grill is owned by the same folks and has similarly delicious food. And yes, it's right on the water...we ate under those grass umbrellas, to the right.
We were quite happy sitting and watching the beach and listening to great live music. So far, they had the best Blue Hawaii, in case you're wondering.
Today we were in vacation-wind-down mode. Roger took Caroline for a horseback ride through pineapple fields while I stayed to do laundry and get a start on packing. We leave bright and early tomorrow morning in order to get our snorkel gear and rental car returned before we fly home.
It's still sunny and bright and breezy here, in case you were wondering.
Tonight, we'll head to Lahaina for a bit of wandering and for the requisite visit to Hilo Hattie's (just BECAUSE). We'll go to Kobe Steak and Sushi for dinner, one of those Benihana-style places where they cook right in front of you. We figured Caroline would like that.
So, tomorrow will be a travel day. I'll be working to finish my novel, Roger will undoubtedly doze, and Caroline will be engrossed in her Gameboy Pokemon game. (Thank goodness for Gameboy on airline flights, I say.)
Aloha!
7