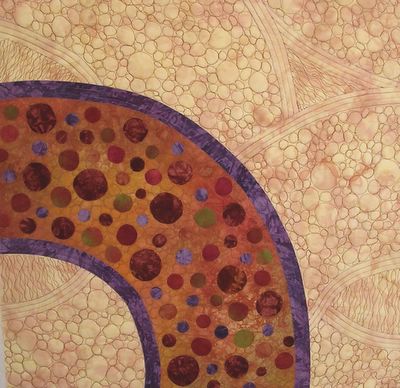 Today, while the auto glass guy was here whacking the rest of the glass out of the car windows and replacing it with nice, new windows, I was upstairs engaging in frustration-release therapy.
I put on my Hawaiian music playlist on Itunes, and engaged in some intense free-motion quilting. I had a very good time and feel much better.
My goal for this little impromptu piece was to play with a design that left a lot of space for quilting, and to make the quilting an equal design element of the whole. I think this is somewhat successful in that, not perfect (snort) but it was a fun try. I'm not sure what the final binding will be. It'll finish to about 24 x 24".
One of my ongoing challenges is how to stop and start fmq without the threads balling up and looking horrid at those stop/start points. I used the method Ricky Timms demonstrates on his Grand Finale dvd (I know, enough already, right?) and it definitely works on the FMQ parts. I still see globs where I was using a walking foot. Any good advice for stops and starts when you're using regular stitch length and feed dogs up?