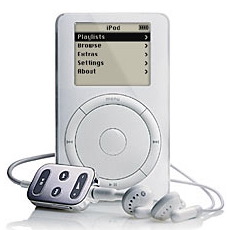 I love my Ipod. It is an amazing device. It's small, sleek, friendly, and -- when dressed in an Ipod cover (mine is a happy turquoise) it's colorful.
But best of all (and you don't need an Ipod for this part) I love Itunes. It's Apple's downloadable software that allows you to purchase and download songs and/or albums on line for 99 cents a song. I don't even have a MAC, and all this works perfectly on my PC.
I came pretty late to the MP3 revolution. But I'm a convert, albeit a technologically-impaired one. And despite that, I've managed to get it all working fine.
On Itunes, you can cruise around searching your favorite artists, listening to excerpts of songs for free, and poking around "IMixes" which are collections of songs other Itunes users have created to make playlists of their favorite songs. It's a fun way to remember songs you used to love, and to discover new songs and artists.
You know how sometimes you've gone and bought an album (er, a CD...I'm dating myself, here) because you love one song, and find that it's the only song on the thing you like and the rest are pretty bad? (The Blues Traveler song "Run Around" comes to mind...from 1994, as I now know from Itunes...Great song, on the radio all the time, I went and bought the cd "Four" only to discover that the other songs were all horrid.) Well, with Itunes, you can simply go get that ONE SONG. For 99 cents! You can download the song to your computer, and play directly from your computer, and/or load it to an MP3 device, and/or burn it to a CD!
I've been having a grand time with this. I've especially enjoyed it because music is so evocative of memories. A song can bring me right back to a place, or time, or event.... Here are some of the individual songs I've downloaded and have been listening to lately:
Ripple
, by the Grateful Dead (flashes me right back to the law school dorm hallway, and standing around yacking after contracts class...)
Picture Book
, by the Y0ung Fresh Fellows (this is that very catchy song on the HP commercial where the boppin' guy is printing out photos on his HP printer and putting them over his head with VERY cool graphics...)
Landslide
, by the Dixie Chicks (a refreshing take on the Fleetwood Mac hit)
Somewhere over the Rainbow
, by Israel Kamakawiwo'ole (You've heard this on numerous commercials...It's so happy and will keep you humming it all day long)
She
, by Elvis Costello (the swooningly romantic song used in the movie Nottinghill)
How to Dream
, by Sam Phillips
As I Lay Me Down
, by Sophie B. Hawkins (the rest of the album really did stink, IMHO)
One of Us
, Joan Osborne (a very thought provoking song)
My Perogative
, by Bobby Brown (an oldie but one of those beats that gets you moving)
Goodnight and Go
, Imogen Heap
That's What Friends are For
, by Dionne Warwick and Stevie Wonder and others (it's hokey, I know)
Garden Song
, by John Denver (it makes me happy when I'm planting in the garden, what can I say... John Denver music is another guilty pleasure and brings me right back to high school and early college days.)
Walk like an Egyptian
, by the Bangles (it just makes me smile.)
Daughters
, by John Mayer
New Slang
, by the Shins
Kiss Me
, by Sixpence None the Richer
My Little Corner of the World
, by Yo La Tengo
The Itunes/Ipod software lets you create "playlists," groups of songs that you can play together, sort of like creating your own album...er, cd. (There I go again.) I have an exercise music playlist, of songs with a driving beat to keep me going on the treadmill and such, and I even created a "dentist" playlist of loud, happy songs to drown out the sound of annoying drilling when I'm in the dentist chair. Weird, probably, but it works for me.
Don't even get me started about how great this is with downloading spoken word books, radio programs and other stuff from Audible.com... That's worthy of another whole entry, it's so great.
Here's wishing you happy music to listen to today...What songs make you smile when you hear them?